PRODUCT DETAILS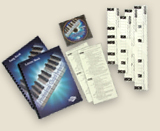 Student Packet
For students and teachers, the Student Packet has all the student needs to get started learning the Professional Chord System.
Important note: The Student Packet alone cannot be used to learn the Professional Chord System. An official System teacher is required.
The Student Packet includes:
A lesson book, complete with chord diagrams, rhythm patterns, practice aids, theory lessons, and ChordFinder index.
A song book, with lead sheets for thirteen standard popular songs.
A CD listening music, helps the student learn what the chords and rhythms sound like so they will be able to correct themselves when they make mistakes and speed up the learning process.
ChordFinder Keyboard Charts and Quick Reference Guides, make it easy for anyone to quickly find the chords, right from the start.
Shipping Information:
We make every effort to ship your order as quickly as possible. Please allow five (5) to ten (10) business days for delivery of in-stock items. Items ordered together are not necessarily shipped together. We will notify you if any item cannot be shipped right away.
We DO accept orders from outside the United States. Please contact us for details.
Guarantee, Returns & Exchanges:
We offer a 100% money-back guarantee. If you are not fully satisfied with an item and wish to return or exchange it, please return it within the 30-day guarantee period. Contact us for details.